Toronto, a city renowned for its urban charm, is also home to some of the most enchanting hiking trails perfect for those looking to embark on shroomventures. Whether you're a seasoned hiker or just beginning to explore the world of magic mushrooms, the Toronto area offers a diverse range of landscapes that can elevate your experience to new heights.
1. Whitchurch-Stouffville Trails
Located just a short drive from Toronto, the Whitchurch-Stouffville Trails are a truly unique place to be when tripping on shrooms. Whitchurch-Stouffville is a small town with great historical significance, hence that's why embarking on a psychedelic journey here can offer an extraordinary blend of natural beauty and cultural resonance.
Indigenous communities have inhabited the Whitchurch-Stouffville region for countless generations. The Huron-Wendat engaged in agriculture, fishing, small game hunting, and dwelling in longhouses for centuries. Hiking on one of the many trails in Whitchurch-Stouffville will be an unforgettable experience for sure, especially if shrooms help you connect with nature.
2. Humber River Recreation Trail
This is one of Toronto's finest hiking spots, often going by names such as "the ravine" or "the Old Mill trail" depending on the entry point. While the effects of shrooms slowly kick in you will be presented with two distinct paths, one designated for pedestrians and the other for cyclists. Therefore, try not to get confused and start walking on the trail made for cyclists.
Hiking at the Humber River Recreation Trail will provide you with the opportunity to immerse yourself in the remarkable natural beauty that Canada has to offer, hidden around each corner of the trail. If you find yourself at this location during the autumn months, don't get tripped out if you see Canadian salmon leaping upstream to reach their spawning grounds. It's a normal occurrence that may even be a spectacular thing to witness during your shroom trip.
3. Mount Nemo Loop
Mount Nemo, is situated in proximity to Rattlesnake Point. Enthusiastic hikers are drawn to this trail, offering a serene haven coupled with a moderately challenging trek. However, this shouldn't frighten you, even as a beginner you will definitely have a good time hiking on this trail, especially if everything is enhanced with a little bit of magic.
The best time to hike on this trail is during the daytime, as the panoramic view is just astounding. On clear days, the view extends all the way to the iconic CN Tower. Another interesting thing about Mount Nemo Loop is that it's considered one of the most exceptional winter hiking trails near Toronto. Therefore if you find yourself in Toronto during the weekend, don't forget to equip yourself with a couple of shrooms and visit Mount Nemo.
4. 99 Steps Trail
Situated within the Thornton Bales Conservation Area, the 99 Steps Trail garnered attention in 2020 as a go-to outdoor workout location. Presently, the crowds have subsided, allowing you to ascend the steps without concerns about onlookers interfering with your mushroom trip.
Serving as the entry point to the conservation area, the 99 Steps Trail boasts well-maintained, sturdy wooden stairs that facilitate a leisurely walk or invigorating jog. Sturdy hiking shoes are still a necessity, though. This trail, among the finest hiking routes beyond Toronto, is open throughout the year. The uphill rout might be a bit challenging for some, thus take your time and enjoy nature, sit down, and relax. It's not all about walking, shrooms will show you in which direction your trip should advance. Thus, just go with the flow.
5. Dundas Peak Trail
If you're on the hunt for exceptional waterfall hikes in close proximity to Toronto, the Dundas Peak Trail stands out as a beloved choice among locals. Unfortunately, it's not free but paying a $10 parking fee and a $5 entrance charge is well worth what you're about to see. Start your journey at Tew Falls, a remarkable cascade standing 41 meters tall, nearly rivaling the dimensions of Niagara Falls.
There are two viewing platforms that will allow you to have the best view possible, gazing into the gorge below. The hike's duration spans about an hour, completing a full loop. During autumn, the leaves ignite in a spectrum of colors which can be really interesting when tripping on shrooms. However, for the best experience visit Dundas Peak Trails during the early summer, as you will be able to witness the hillside adorned with fluffy foliage.
6. Bruce Trail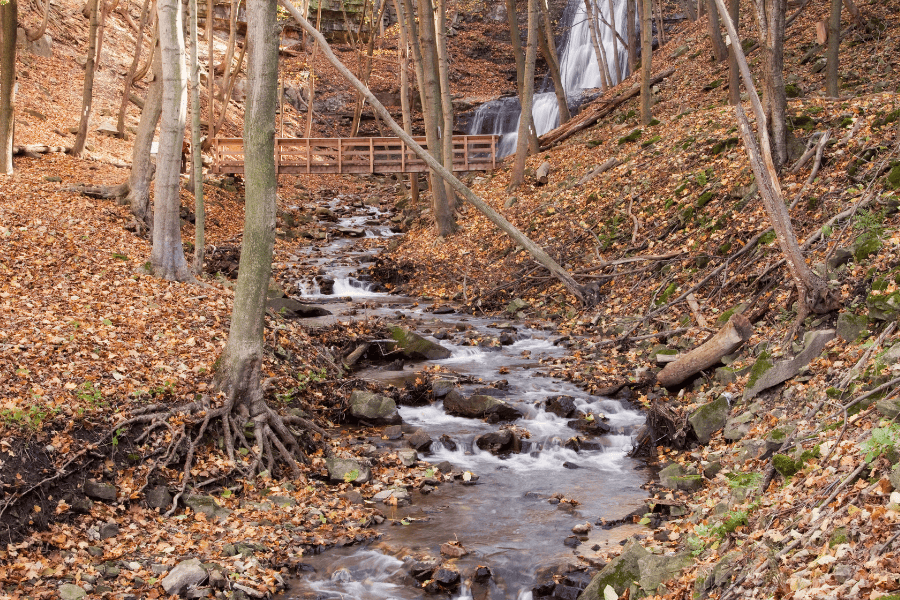 Undoubtedly, the Bruce Trail reigns as the preeminent hiking experience near Toronto and stands tall among the finest trails in all of Ontario. This makes it an ideal hiking spot while tripping on shrooms. This trail is also acknowledged as the most demanding trail as it encompasses an impressive distance of nearly 500 kilometers.
You probably won't hike the entire trail while on shrooms, but stepping on the Bruce Trail and visiting Hilton Falls or Limehouse Conservation Areas can provide you with an opportunity to enjoy nature and perhaps catch a glimpse of indigenous Canadian wildlife.
What Items to Bring When Hiking on Shrooms In Toronto?
To ensure that you have everything you need, for a Toronto hike, here is our carefully crafted packing checklist:
Rain jacket, even if the weather doesn't forecast rain.
Sturdy hiking shoes or boots.
A minimum of 1 liter of water.
High-protein snacks or portable meals.
A hiking backpack, preferably equipped with straps for ergonomic support.
Your phone.
Sunblock, a hat, and sunglasses to shield yourself from Toronto's intense sunlight.
Bug spray to ward off insects.
A map—either digital or physical—for navigation.
Moisture-wicking clothing layers.
Now you know what are some of the best places to hike while tripping. Don't wait, don't hesitate. Pack the essentials get shrooms delivered to your doorstep and enjoy the hike!