Magic Dollars - How To: Earn Points
There are lots of ways to earn Magic Dollars
Our Magic Dollars rewards program provides many ways to earn points for yourself!
For every $1 spent on all products excluding bulk products, will return you 1 magic dollar. (Majority of products are not bulk)
For every $4 spent on bulk products, you will receive 1 Magic Dollar.
Receive 15 Magic Dollars for every review. (Spam reviews will result in losing all points and having your account suspended)
Receive 5 Magic Dollars for daily logins. 
Receive points when referring a friend.
Larger orders will make you eligible for bonus points. 
The more you order with Shroomland, the more bonuses you will receive. 
How to Earn Magic Dollars?
Our Magic Dollars Rewards Program was create to be very simple to understand.! Below are instructions on how to see the different ways to receive Magic Dollars. 
Step 1 – Click on the Magic Dollar Icon
Step 2 – Then click on the earn section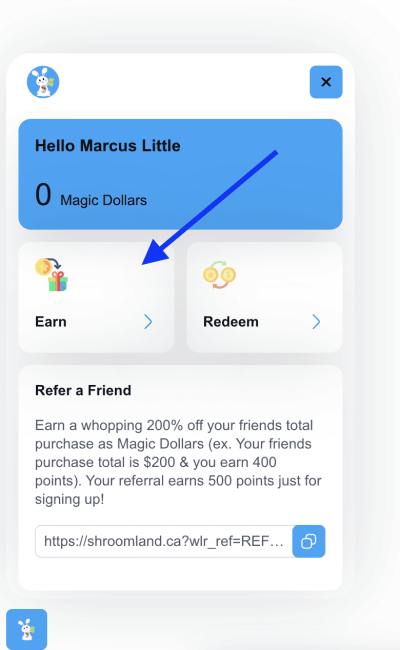 Step 3 – You will see all the different options for making magic dollars. We will always look to add more options, so keep checking!